Our Office
Dr. Joseph F. Pohl, MD
Dr. Joseph Pohl is a board certified Obstetrician Gynecologist with 30 years experience in healthcare. He has an undergraduate degree in Chemistry / Business from the University of Richmond, Richmond, Virginia and attended medical school at the Virginia Commonwealth University School of Medicine, Richmond Virginia. Dr. Pohl interned at Letterman Army Medical Center in San Francisco, California and completed his residency at Madigan Army Regional Medical Center in Tacoma, Washington. Fellowship trained in Pelvic Reconstructive Surgery at Emory University, Atlanta, Georgia. Staff Physician at Landstuhl Army Regional Medical Center in Germany, and completed his 12-year military service as a Lieutenant Colonel and Director of Pelvic Reconstructive Surgery and Urogynecology at Walter Reed Army Medical Center, Bethesda National Naval Medical Center, Uniformed Services University of Health Sciences in Washington, DC.
Dr. Pohl's current interests are exercise and fitness, food and nutrition, and how lifestyle changes impact wellness and chronic disease prevention.
---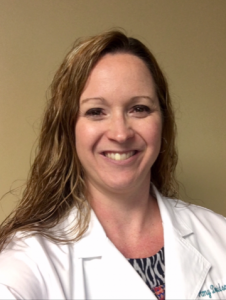 Amy S. Davidson, WHNP-BC, MSN
Amy S. Davidson, WHNP is a board certified Women's Health Nurse Practitioner. She began her career by working as a patient care tech while she was in nursing school. Then, she worked as a labor and delivery nurse for many years, gaining valuable experience taking care of women during childbearing years. She obtained her BSN at Georgia Southern University and her Master's Degree in Nursing and Women's Health at Georgia State University. Clinical interest includes general gynecology, well women care, health and wellness over the lifespan, and routine to high-risk obstetrical care.
Amy grew up in Gwinnett County and is happy to be practicing in her hometown. She and her husband have two children and enjoy traveling and spending time with friends and family.